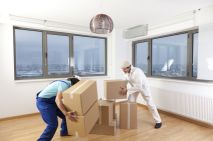 Man with a Van: the Economics of Relocation
23 September 2014
Moving house is a very expensive business. The removal alone can end up costing many thousands of pounds, particularly if you go with a national chain of movers. There is, however, an alternative which can save you a lot of money, especially if you're moving from a flat, moving your office or a 1-2 bedroom home. A man with a van can be a cost-saving solution.

Man with van may be a misleading term. It's often not just one man, and not even one van! Essentially, however, these guys are there to transport what you need, when you need. They aren't usually hauling massive lorries and their organisations are smaller. This leads to lower overheads, and therefore lower costs to you. A cross between a courier and removals company, a man and van may represent a good economic solution when you're relocating.

What you'll be hiring is a smaller outfit, flexible to meet your needs. Unlike the big removals companies, they tend to be available at shorter notice, for less cost and with more flexibility. Sunday moves are also possible, which you wont get with the national chains. You can give relatively short notice, which is great. In the major cities, for example London, you'll find a good, responsive service that meets your needs quickly. Across all the big towns in the UK, you should be able to find a reputable man and van service.

Ensure you're hiring a reliable and well established man and van company, with good testimonials and lots of experience. If you're moving from a larger home, look for those with a bigger fleet, of Luton vans and also long wheel-based trucks. With several employees, if you are going to need more than one van to help you move. You'll do the packing, so also save on professional packing services. Instead of costing you thousands, your house or office move could easily be in the hundreds of pounds.

You tend to get a friendly, personal service where you may well have all your contact with the very man, or men, who'll be carrying out your move for you. The price will be tailored to exactly how much you have to move: rather than boxing you (forgive the pun) into a standard 'package' with a standard price. Every move and every household is different, so it's nice to get a personal service with a price that's relevant to you – not just the 'average' family that large chains deal with day in, day out. This helpfulness and friendliness should extend once you've arrived at the new home too. A good man with van will be available to help you reassemble your flat pack furniture and put all the right boxes in the right rooms … not just dump them on your threshold.

Prices tend to be charged per hour. So, if you're moving locally for example, you may end up paying a lot less than you might think. There tends to be a minimum charge and time of around two hours, but it's often best to hire your man and van for a full day. Of course, there may be two or three men and two or three runs needed for a bigger house, but even so, you're probably only looking at around £500 – £600 for a full day. And that's for three men. So, you can see just how much you will be able to save. This is a very cost-effective way to relocate, and every penny counts in the expensive process of selling, buying and moving house.