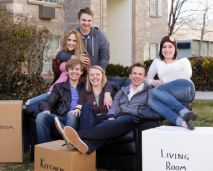 Moving Home: A Detailed Checklist
23 September 2014
Moving home is an extremely stressful time, there are so many things to consider and so much going on that it's likely to all go wrong without careful planning and forethought. This checklist is designed to help you to consider and remember the important things, broken down into categories it is simple to follow and ideal to print off and keep with your moving documents.

3 Months to go…

• Take a look around your new home and start placing where your belongings are going to go, consider making a sketch if it helps. Get an idea of the spacing and what exactly you will and will not be bringing to your new home.
• Start separating your belongings into those you are keeping and those you are disposing of. Remember that Removal Companies will charge you for everything you move to your new home, so it is best to dispose of the things you don't want before the move and save yourself money. Consider charity shops or car boot sales, or for more expensive items, selling privately using free advertising or auction website's. Sell or dispose of as much as you can before your moving date.

1 Month to go…

• Decide on the date you are going to move home.
• It's time to book a removal company, don't rush in and book the first company available, call around a few companies to get a price comparison. Don't forget to ask what the price includes, some companies will help you to move boxes and unload the van when at the new property, whereas others will drive you in-between properties and nothing more. Ensure the company is reputable and professional, and enquire if there are any extra charges for your moving date (some companies will charge extra on the weekends or bank holidays).
• Consider whether you need any of the following services: cleaning service, storage service, moving insurance, an electrician or plumber. Now is the time to start enquiring into prices of local companies.

2 weeks to go…

• Moving home may also mean moving doctors, opticians, dentist's etc. so ensure you have adequate supplies to see you through for a month whilst you register.
• Look into getting your mail redirected, set it up to start the day after your move.
• Gather important documents and items together and keep to one side. This includes passports and birth/marriage certificates, Jewellery, cash, expensive items, wills and insurance papers, driving license counterparts and cards. Don't let this box get mixed in with the others and be sure to keep it safe.
• Gather all 'Moving Documents' together and keep in a wallet or folder.

1 Week to go…

• Finish packing
• Collect or arrange collection of the keys to your new property.
• Put together a 'Survival Bag' for moving day. Include anything you think you might need: food, entertainment, toys and spare clothing (for children).

Moving Day…

• In your Old Home:
o Take a last look around to make sure you haven't forgotten anything important.
o Make sure all windows, doors and entrance points are locked (including shed's)
o Make sure the water, gas and electricity are turned off. Record all meter readings.
• In Your New Home:
o Put your moving documents and box containing important belongings away in a safe place.
o When unpacking look for anything that is missing or damaged.
o Contact Royal mail to ensure your post is being redirected.