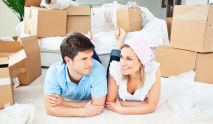 Removals to France: 3 Important Documents You Should Have
23 September 2014
Have you finally decided about hiring services for removals to France? Well, good for you. At least, there's someone who'll take charge of moving all your stuff. But, wait, removals is just one important aspect when you want to live in this country. The other thing you should remember is to secure the following important documents for your stay in France as well.

# 1 – Valid passport and other basic documents

You can't move to France unless you have a valid passport. You'll need this together with your birth certificate (or marriage certificate if any) when you'll apply for a working or resident permit later on.

# 2 – Resident permit

This is one document you should secure when you're already living in France. EU laws dictate that you should have these within three months after you've arrived in the place. Apart from all basic documents mentioned above, you'll also need proof that you're paying monthly contributions to the French social security system. You may also be required to submit an authorisation from the Chamber of Commerce if you don't have any contract of employment (or if you're self-employed).

# 3 – National identity card

If you're from countries like Luxembourg, Italy, the Netherlands and Belgium, you'll be required to secure this document. This will help you get employed whilst you decide to stay in France.

These are important documents you should secure after you've sought a company's help for removals to France. Once you have all these items with you, it'll be easy living in this foreign country.