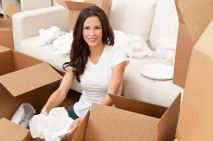 Things to Consider When Hiring a Removals Company
23 September 2014
When relocating your office, hiring a professional removal company is always a good option. Unlike when moving houses, you have to consider not just your things but your business and your clients as well. Surely you are moving offices to improve your business or your practice. But if you put your clients to too much inconvenience during the move, you might lose them instead. That is why you need to do your removals in a fast and efficient manner.

Look for Experience

Experience should be the first thing you should require from a London removals company you are looking to hire. Ample experience would equip them well to handle difficult situations during the move. In fact, they would be able to anticipate possible hurdles at the planning stage already. In the end, their experience would enable them to make the transition from your old office to your new one smoother and less stressful.

Other Services

Most London removals companies would provide the packing materials. They would have packing tapes, boxes, bubble wraps and padding. While others provide them as a part of a package, some sell them apart from the fees you pay them.

If you are moving to a smaller office, you should also consider the London removals companies that have storage facilities. You would surely have excess furniture or inventory which will not fit in your new office. By storing with the removals company, you actually save money.

You can also get insurance from the removals company. This is especially important if you have expensive office furniture and expensive inventory to transport. Again, getting insurance coverage from them is cheaper so you gain when you include the services in a whole package.

Skills and Specialization

If you have heavy furniture or equipment, you should make sure that the removals company you are hiring has the proper equipment and the proper experience to transport them. Otherwise you would be risking your things with the wrong company.

If you are transporting your things long distance, you should also make sure that the company services and specializes in long distance removals. Again, the skill and the experience are important for them to do the job efficiently.

The Price

Of course, a business is a business. It's always about cost minimization and the bottom line. That is why you need to compare rates first before hiring a London removals company. While doing so, make sure that you check out the included services though. And then choose the one that offers the best deal.